Backup as a Service Provider - Fastest Cloud Backup Solutions
Protect data with EXEO's Backup as a Service – a cloud backup service based on Acronis backup cloud, the safest and fastest backup solution to protect on-premise and cloud data.
Rest easy with 24x7x365 monitoring that guarantees recovery.
BACKUP AS A SERVICE SOLUTIONS
Fastest cloud backup service that works
from everywhere.
every time.
Every day, we monitor and manage the process of terabytes of data on behalf of our clients. Based on their preference, we store the backup target either on their predefined customer premises, in our secure data center or on the Acronis Backup Cloud in a secure vault located in Frankfurt.
With backup as a service from EXEO, customers rely on the experience of professionals operating in our managed service center. They are constantly monitoring the data protection processes and daily running pre-approved procedures.
Key benefits of Backup as a Service
BAAS from Exeo, minimizes security risks with integrated cyber protection covering 100% of the business assets that can be backed up either on on premise client local storage or on the cloud supporting all possible platforms.
The fastest cloud backup not only backs up the data but also makes sure it provides ransomware and malware protection. It requires the installation of an agent on the asset, or it's done automatically in the case of Microsoft Office 365 backup or Google Workspace data protection.
Exeo is a backup as a service provider, this means that the continuous verification and restore process is managed by a team of experts through the managed service center operating 24×7.
The 3 main benefits of backup as a service are:
Secure off site backup and rapid disaster recovery
The data is stored on client premises locally or in a secure data center of Acronis in the European Union, the configuration is done on a centralised cloud base console. This technology helps us deliver the fastest cloud backup service.
Data protection with encryption at source
The data is encrypted at source before departure to the cloud using AES256 and with client provided keys. The process is fully managed and the encryption is irreversible which makes this service the safest online backup service.
Increased reliability
Increased reliability, thanks to a fully managed process with daily checklists. The backup destinations are verified which ensures reliable recovery when needed.
With client provided keys
99.995% Availability
ISO 27001 – PCI DSS – HIPAA Certified
On customer premise
Inside our Data Center
Inside Acronis Data Center
in Frankfurt
Workstations
Servers
Virtual Environments
Microsoft Office 365 + Sharepoint
Google Workspace (formerly Gsuite)
Applications
24×7 monitoring
Daily Checks
Guaranteed recovery
Easy to use Cloud Backup console
World fastest recovery
EXEO's advantages as a Backup as a Service provider​
As a backup as a service provider, Exeo has multiple solutions. Although backing up workloads on-premise may seem like a commodity today, adopting backup as a service in cloud computing is a task that requires acute expertise and special care in the management process.
Here are Exeo's key differentiators:
Backing up Cloud Workloads:
As a Cloud expert, Exeo is uniquely positioned to be a backup as a service provider for cloud computing workloads like Microsoft Office 365, Google Workspace, Azure, Google Cloud Platform or AWS.
Security and Integrity:
Being certified in ISO 27001, ISO 27017, ISO27701, SOC2 Type2 and ExpertCyber, Exeo has security and privacy built into its ADN. Encryption of data, user rights and tight operating procedures means client data is always managed in the most secure possible way.
International Footprint:
Through Exeo's three offices, maximum service availability and client intimacy is achieved. Exeo's strategy is to always keep close contact with its clients and be intune with their needs.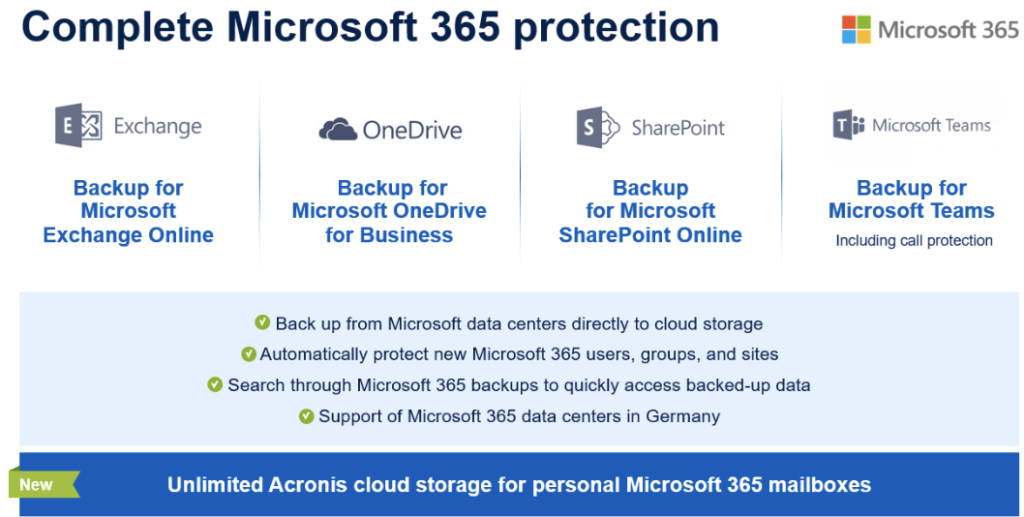 Microsoft Office 365 Backup Service
Exeo has developed the safest and fastest Microsoft Office 365 backup service. Protect your Microsoft 365 data (Emails, contacts, files, Teams, etc.) to a secure location which is GDPR compliance and with unlimited retention and storage per user.
According to the Service Agreement of Microsoft: "You should have a regular backup plan."
The data is protected with a one way encryption and a client provided key. The backup is done cloud-to-cloud and there is no installation required.
Start Protecting your data now with Backup as a Service.
With the most cost effective, reliable and easy to use cloud backup solution.

The EXEO BaaS is powered by the Acronis Cloud Backup Solution. The world's fastest backup solution. No need for complicated software, after the initial configuration, the backup process is managed by the cloud backup solution and the engineers in our managed service center will monitor and verify the process on a daily basis. Uptime and security guaranteed.
Backup as a Service (BAAS) FAQ