Start Protecting your data now!
Protect enterprise data and cloud data (like Office 365 emails and files) with backup service from EXEO. A data protection service built using the secure Acronis backup cloud, the safest and fastest backup and recovery solution.
A Backup service that works
from everywhere.
every time.
Every day, we monitor and manage the backup process of terabytes of data on behalf of our customers. Based on their preference, we store the backup target either on their predefined customer premises, in our secure data center or on the Acronis Backup Cloud in a secure vault located in Frankfurt.
With backup as a service from EXEO, customers rely on the experience of backup professionals operating in our managed service center. They are constantly monitoring the data protection processes and daily running pre-approved procedures.
Encrypted at Source with client provided keys
99.995% Availability
ISO 27001 – PCI DSS – HIPAA Certified
On customer premise
Inside our Data Center
Inside Acronis Data Center
in Frankfurt
Workstations
Servers
Virtual Environment
Microsoft Office 365 + Sharepoint
Google GSuite
Applications
24×7 monitoring
Daily Checks
Guaranteed recovery
Easy to use Cloud Backup console
World fastest recovery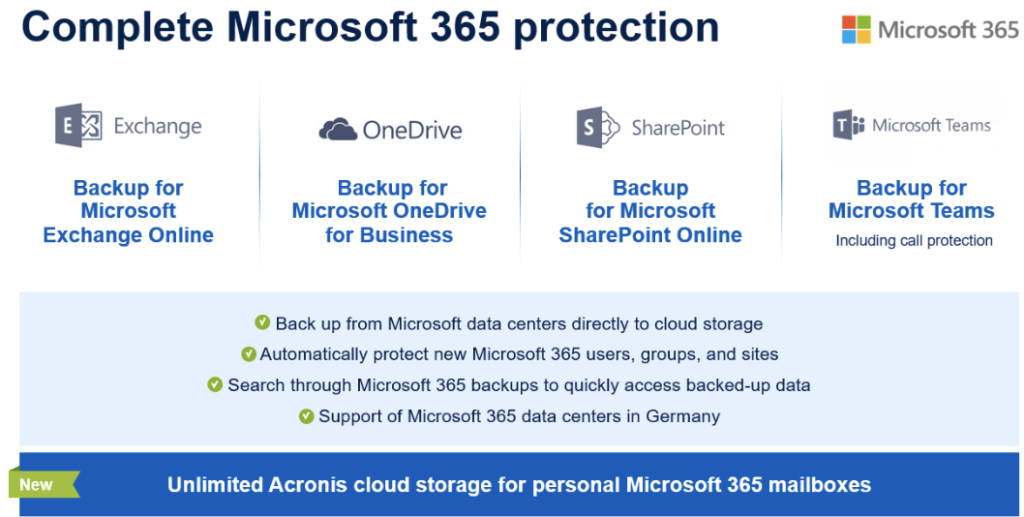 Microsoft Office 365 Backup
Backup and protect your Microsoft 365 data (Emails, contacts, files, Teams, etc.) to a secure location protected by GDPR with unlimited retention and storage per user.
According to the Service Agreement of Microsoft: "You should have a regular backup plan."
The data is protected with a one way encryption and a client provided key. The backup is done cloud-to-cloud and there is no installation required.
Start Protecting your data now.
With the most cost effective, reliable and easy to use cloud backup solution.

The EXEO backup as a service is powered by the Acronis Cloud Backup Solution. The world's fastest backup solution. No need for complicated software, after the initial configuration, the backup process is managed by the cloud backup solution and the engineers in our managed service center will monitor and verify the process on a daily basis. Uptime and security guaranteed.