Managed IT Services and Solutions Provider
An Agile IT outsourcing service adapted to every client's need
What are managed IT services?
A managed service is an IT services practice which involves the managing, maintaining and anticipating the needs of a range of IT processes and functions with the goal of improving operations and reducing expenses. The provider of such services is referred to as a Managed Service Provider (MSP). A managed service differs from outsourcing in that it targets a specific function of an IT service, and is tied to a commitment to meet certain performance metrics. The managed service is primarily based on proactive monitoring technology to detect and prevent outages and thus reduce operating costs. As such, managed IT services are generally less expensive and more effective than outsourcing IT services.
The managed services solutions Exeo provides are as follows:
Managed IT & Hybrid Cloud: the management of the IT infrastructure on premise and in the cloud including the monitoring and administration of the systems and resources of the client;
Managed Service Desk: the management of the devices (laptops, desktops, etc.) and the support for the end users using different interactive (voice, chat) or non-interactive channels (email, web);
Managed Productivity Cloud: the monitoring and administration of the Microsoft Office 365 or Google Workspace environment of clients including training and onboarding of new users;
Managed Backup & Disaster Recovery (Backup as a Service): the implementation of a backup policy on premise and/or in a secure cloud and the constant monitoring of the backup processes and implementation of partial or full recovery of backups when needed.
With Managed IT Services, the Organisation's IT is addressed in an AGILE and TRANSPARENT way
ADVISORY, STRATEGY & PLANNING
Advisory, Strategy & Planning

Migration

Operation & Optimization
Advisory, strategy & planning. Seamless migrations and the ability to operate and optimize systems requires a skilled workforce which is able to deliver in each of those areas.
Our managed services skilled workforce is multidisciplinary and while it can deliver on cloud services, it is also used to deliver on premise when the client has already invested in technology which is running on its premises.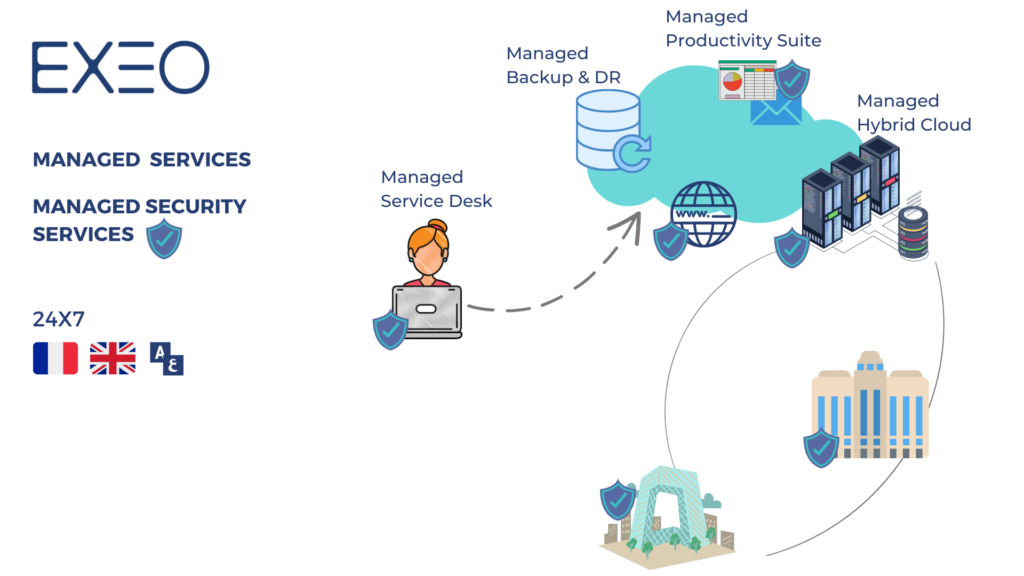 What are the benefits of using managed IT services?
A managed IT services company like Exeo pools its costs across several clients using secure multi-tenancy management techniques, which is what makes it possible to achieve fairly low price levels compared to outsourcing while maintaining high technical expertise. This type of operation attracts the most qualified engineers and Exeo can maintain a high level of competence throughout its teams.
This new model of outsourcing IT services involves centralized work in secure service centers and a controlled system administration environment.
Moreover, as the team is trained and certified on the technology it provides in a standard and repeatable approach to scale, this maximizes efficiency and availability of service. The number one benefit of a managed service is a commitment to an SLA attached to every item of the managed IT infrastructure, hence clients now focus on services and value instead on technical infrastructure and management.
Why choose EXEO as a managed IT services provider?
EXEO is a leading managed IT services provider, offering businesses of all sizes comprehensive and affordable solutions for their technology needs. Contact us today to learn more! By delivering all those services from a secure location and by a skilled managed IT services team, Exeo acts as a full service IT company with an innovative approach of managing IT.
Furthermore, Clients are only charged on a per use basis (per device per month) instead of a fixed lump sum model.
Finally, Exeo is a managed services provider that operates every day of the year 24 hours a day and 7 days a week and hence able to service its clients around the world.
We provide a remote monitoring, management and administration services
Different combination of managed services options are delivered and adapted to client needs.
We act as a virtual CIO and take charge of the strategy, planning and management of the client's infrastructure
Monitoring, management and support for endpoints and mobiles every day of the week.
Managed Productivity Suite
Monitoring, administration, training and integration of Google Workspace and Microsoft 365 tenants.
Protecting on premise and cloud data to a secure location in the cloud or on client premises.
Exeo manages hybrid Cloud and on-premise infrastructure in a pro-active way.
Exeo sets up and manages DevOps application development and hosting environments on Google, Azure or AWS.
Organize your online presence: Monitoring and administration: Www, DNS, Web Application Firewall.
Reduce Opex, Detect and solve problems, Enhance the end user experience
Servers and Virtual Machine (VM) Management
Health & Security, Availability, Tranquility
Continuous monitoring and triage of logs for detection of threats with a checkup every evening on any abnormal behavior.
Stay online all the time: Continuous monitoring and configuration.
Protect the data all the time  Backup management and daily backup job verification.
Productivity Cloud Management
Exeo manages Microsoft 365 and Google Workspace environments for its customers.
When an organization grows, so does its asset footprint. The task of managing IT assets becomes much more challenging as the business expands beyond a couple of servers, workstations, and network devices — otherwise known as endpoints. What once only required simple IT management soon becomes overwhelming.
Let's break down the common components that you can expect:
Asset management
Patch management
Operating system deployments
Application deployments
Compliance evaluation
Mobile Device Management
Remote Control
With data captured from each device in real time, our managed services team is better geared to respond to problems before they happen.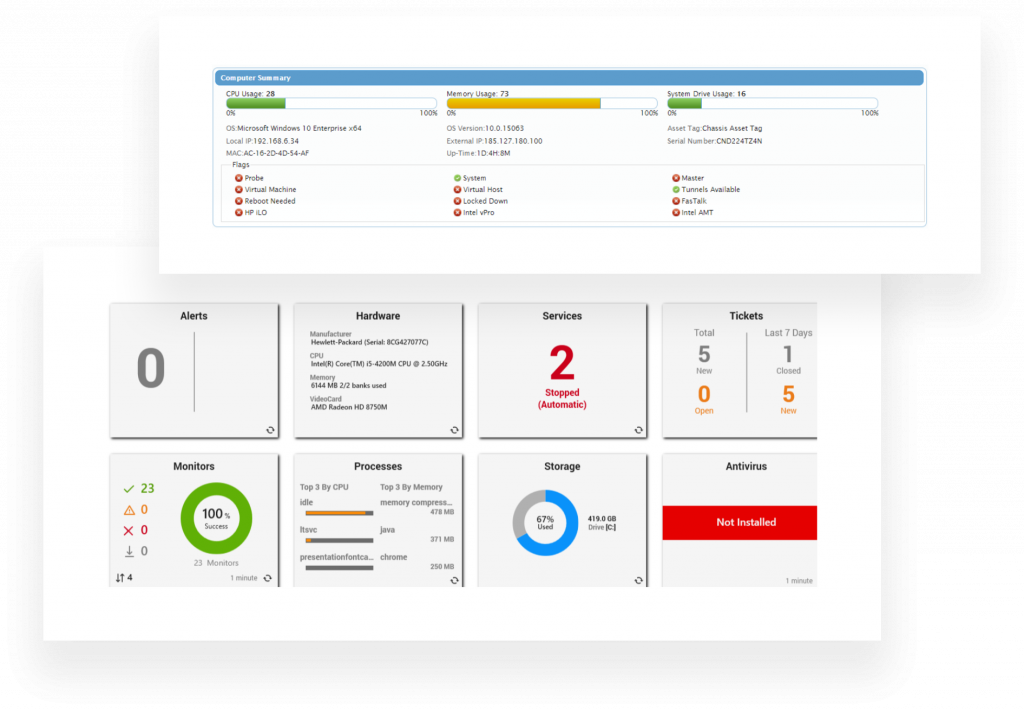 Servers and Virtual Machine (VM) Management
For most businesses, a problem with the server can stall business operations. That's why it's important to maintain health and security of those resources. Servers health is monitored and controlled 24×7 and at all times preventing any unusual activity to bring down the availability of the server. Most importantly, our managed services team looks after:
Server security;
Security updates and patch management;
Anti-virus and anti-malware through Endpoint Protection Platforms;
Backup processes health;
Usage rights;
Any fault or log entry that requires attention.
Managed IT Services and Outsourcing FAQ
What can EXEO do for your business?
We believe that digitization is not an end by itself, but a mean to get to a more productive and efficient business operation that supports every organisation's objectives.
Get in touch with us and we can help you assess how you can operate in a more agile way with transparent and predictable costs.