Google Cloud Migration Partner - Google Cloud Platform (GCP) Migration Services
Minimise interruption and boost performance

Google Cloud is a suite of cloud computing services that runs on the same infrastructure that Google uses internally for their own consumer products, such as Google Search, Gmail, and YouTube. GCP offers various services for computing, storage, networking, big data, machine learning, and the Internet of Things (IoT), as well as cloud-native DevOps tools and services such as Google Kubernetes Engine (GKE) and Cloud Functions.
Google Cloud platform has data centers and edge points located in multiple regions worldwide. This allows for low-latency access to data and services and the ability to comply with data sovereignty regulations. GCP also offers a range of security and compliance certifications, such as SOC 2, PCI DSS, and HIPAA.
GCP offers a pay-as-you-go pricing model that makes it a cost-effective and reliable option for businesses of all sizes.
Cloud Emissions reporting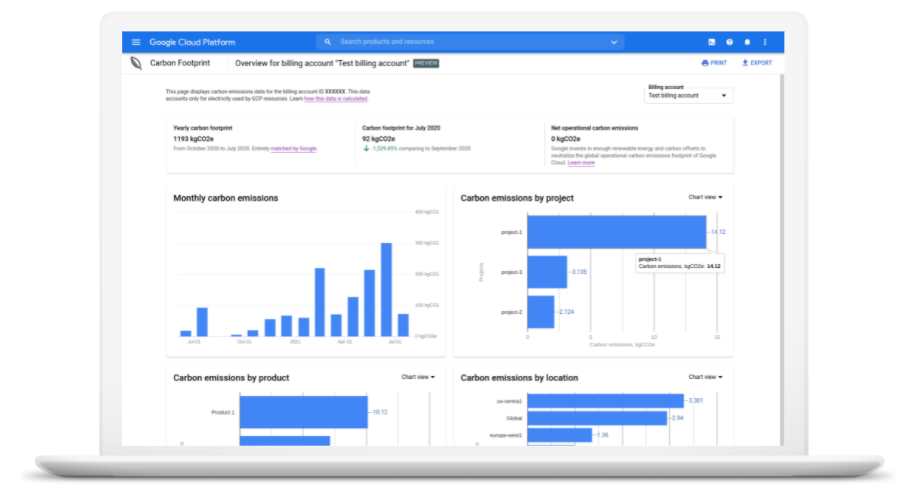 Google Carbon Sense helps clients accurately report the carbon emissions associated with their Google Cloud usage and take action to reduce their carbon footprint. The Carbon Sense suite combines features from multiple Google Cloud products, like Active Assist and Carbon Footprint, to help users everywhere progress toward ensuring a healthier planet.
Top 3 Benefits of Google Cloud
Strong security and compliance
GCP protects customer data, ensures regulatory compliance, and has a dedicated security team that constantly monitors for threats and vulnerabilities.
Advanced Machine Learning and AI capabilities
GCP provides a range of tools and services for machine learning and artificial intelligence, including TensorFlow, Cloud ML Engine, and AutoML, allowing developers and data scientists to build and deploy machine learning models quickly and easily.
Scalability and Flexibility
Google Cloud Platform offers a wide range of services and solutions that can easily scale based on the changing needs of the business. This allows businesses to quickly adapt to new demands and opportunities.
Google Cloud Platform (GCP) migration services by Exeo
As a Google Cloud Partner, EXEO provides an exhaustive list of GCP migration services.
A thorough analysis of the current environment, including data, applications, and workloads, to identify the best migration strategy and plan.
Infrastructure & data migration
Moving infrastructure, such as servers and storage, to GCP including GCP Data Migration. Transferring data and databases, structured and unstructured data, from on-premises or other cloud environments to GCP.
Implementing or updating GCP DevOps services, processes and tools, such as Kubernetes Engine and Cloud Functions, to support efficient and effective deployment and management of applications on GCP.
Cloud-native application development
Developing new applications or rewriting existing applications to take full advantage of GCP services and features.
Monitoring, optimization and technical support
Ongoing monitoring and troubleshooting, as well as making any necessary adjustments to the environment to ensure optimal performance. For more info, check our managed services offering.
Helping clients stay on top of their GCP cloud bill and optimize their cost and usage of GCP resources by selecting the right services for every use case.
Providing training and education to help customers understand and use GCP effectively.
Google Cloud Platform (GCP) migration strategy
Based on your needs and requirements, our team of experts will advise you and conduct a thorough assessment, then come up with the best migration strategy for your organisation. When it comes to migration from other cloud providers such as AWS, Azure, or Heroku, GCP offers several options, such as GCP Data Migration Service and GCP Database Migration Service.
As a trusted Google Cloud migration partner, EXEO provides specialized services such as application migration, data migration, and disaster recovery. Here are the two main techniques of a google cloud data migration service that we use:
GCP Data Transfer Service: This service allows the easy transfer large amounts of data to GCP storage and compute services, such as Cloud Storage and BigQuery, using a variety of transfer methods, including online and offline transfer, as well as transfer appliances.

GCP Database Migration Service: This service provides a fully managed and automated solution for migrating databases to GCP, including MySQL, PostgreSQL, and SQL Server
GCP Migration and Application Sorting
Our specialists will offer you the migration plan that starts with application sorting. Application sorting can help you prioritize and ease the migration of applications. The process typically involves the following steps:
Identify and assess the applications to migrate to GCP. This includes gathering information about the current environment, dependencies, and requirements of each application.
Sort the applications based on their priority and readiness for migration. Applications that are critical to the business and have minimal dependencies are typically prioritized for migration first.
Create a migration plan based on the sorted applications. This includes identifying the migration method and tools, such as the GCP Data Migration Service and the GCP Database Migration Service, that will be used for each application.
Test and validate the migration plan, and make any necessary adjustments.
Execute the migration plan, starting with the highest-priority applications. This includes migrating the data, applications, and workloads to GCP, as well as any necessary configuration and testing.
Monitor and optimize the migrated applications in GCP. This includes ongoing monitoring and troubleshooting, as well as making any necessary adjustments to the environment to ensure optimal performance.
Why use Exeo's Google Cloud Migration services?
As a Google Cloud Migration partner authorized in Google Workspace and Google Cloud Platform, Exeo specializes in helping businesses migrate their data, applications, and workloads to GCP. Our team of experts has the knowledge and experience necessary to ensure a seamless migration process.
We provide comprehensive GCP Data Migration services, that include assessing the client's current environment, identifying data, applications and workloads to be moved, in addition to selecting the appropriate migration method and tools, such as the GCP Data Migration Service, and migrating your data to GCP in a secure and efficient manner. Exeo also provides ongoing support and optimization services to ensure that the migration is successful in the long term.
Exeo's team is regularly updated on the latest technologies and best practices of GCP data migration, working closely with Google Cloud as one of EXEO's top migration partners. By choosing Exeo as your migration partner, you benefit from the latest migration technologies and best practices, as well as the expertise of our professional team.
We provide a comprehensive, cost-effective, and efficient solution for GCP data migration services. Our team of experts will ensure that migration is a success, enabling clients to fully leverage the power of the GCP.
Cloud Expertise & Experience
Exeo has been a Google Partner for 10+ years.
It has a strong team of architects and engineers who know how to design, build and operate the right Cloud environment adapted to every client business need.
Exeo has a dedicated managed security team focused on the security of the Cloud.
Every resource that we migrate is security hardened according to the standard controls and regulations.
Every migration is followed by a cloud security assessment.
The key strength of Exeo lies in its 24×7 managed service center that monitors all the managed resources of the client.
By applying a mixed strategy involving monitors, triggers and humans to supervise workloads, we are able to detect anomalies and prevent failures and security breaches way before they occur.
Simplify Google Cloud Platform (GCP) Migration & Integration
Google Cloud Migration Services FAQs