Google is bringing Reminders to the web a few months after adding Reminders to Google Calendar on iPhone and Android. Reminders will be rolling out to Calendar's web users this week, the feature will be working basically the same way as it does on mobile. Reminders appear just like events, slotted in at the date and time you set them for.
But unlike events, a Reminder won't disappear when the day is over — it'll stick around at the top of your calendar until it's marked complete.
Reminders have been rolling out across Google apps over the last year. They started in Gmail's Inbox app, and then came to Google Keep and Calendar.
Reminders are Synced across all your devices!
Reminders will sync across all of Google's properties that support them, so if you create a reminder in Inbox, it'll show up in Calendar, too. Now with support for Calendar on the web, Reminders are across most of Google's core organization apps.
With this feature added to the Web, you can now manage your Reminders on your big screen PC and let it Sync directly to your smartphone. It comes handy when you lose your phone or forget it at home.
Tip: How to Schedule meetings with groups using Google Calendar
When you need to schedule a meeting with several people who have busy schedules, it can be really annoying to try to figure out when you're all free. Thankfully, Google Calendar actually has two features that can do the heavy lifting for you: "Suggested Times" or "Find a Time."
To use either, make sure you've added everyone to the event who needs to attend.
If you'd like Google to suggest a time for you to meet, simply select the "Suggested Times" link below your names. A pop-up will show up with sometimes you can meet. (In my experience, these suggested times tend to be very early in the morning or very late at night, especially if you have busy people on the invite. But some people prefer to use this feature.)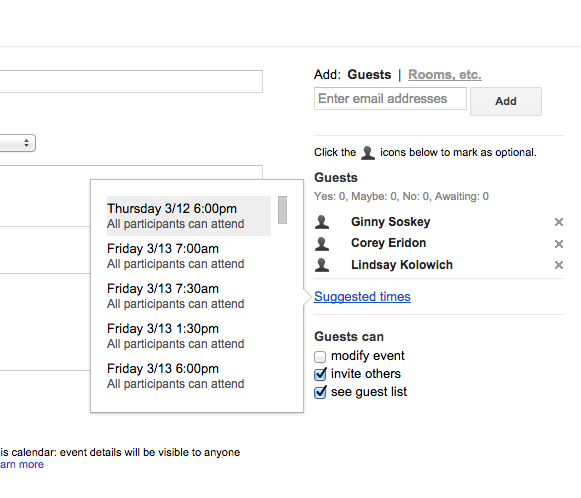 Or, you can choose the tab next to "Event details" called "Find a time" to have Google help you find a time. In this option, you'll see everyone's schedules side-by-side. Find an open spot? Claim it with that blue-dashed box and send off your invite.

Watch this small Video about the Google Calendar Reminders to Get an idea about what you can do with it!
Stay tuned for more Google Tips & News!
Don't forget to Subscribe (On the Sidebar, or in the footer)